Please make reservations online in advance!
Pick-ups / returns outside of the opening times (see contact),
please make an appointment in advance by email.
Thank you, Andreas
OUR SLOGAN: "CLASS INSTEAD OF MASS"
WE LIVE FOR CYCLING! (others only sell it)
Our exclusive Bike Center on Gran Canaria stands uncompromisingly for High-Tec Bikes and first class service.
In our rental department you will find the latest AIRSTREEEM, CUBE, SCOTT and 1OF1 racing bikes.
We also offer PEDELECS (often called E-Bikes) from SCOTT and CUBE, equipped with BOSCH motors. Now new we offer additional e roadbikes from CUBE, SCOTT and MMR powered by FAZUA and Mahle eDrives. Already this winter season you can test ride next year's models!
By yourself or with a special bike tour, you will certainly take pleasure in the excursions on our bikes and even in the winter enjoy the warm climate and sunshine.
We are looking forward to welcoming you soon as a customer in our new location in Maspalomas.
Please use our Online- Booking System to ensure that even in times of great demand and in high season we can provide you with your favorite bike.  Greetings
Sporty greetings,
Ing. Andreas Suppan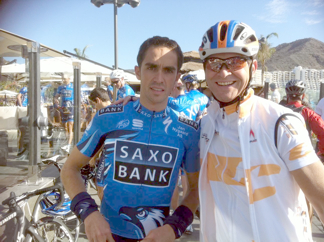 Bicycles for every type: nature lovers, hobby riders or ambitious cyclists.
We have the latest models of racing bikes and pedelecs with Bosch engines.
Now everyone is able to know the island of Gran Canaria in a healthy, cheap and ecological way, as it was previously impossible.
As good as new roadbikes and pedelecs
C.C Sonnenland, Maspalomas
1ª Planta - Local S-107
Cruce del tablero
+34 928 147 086
Maspalomas - Presa de Ayagaures – Montaña la Data - Maspalomas
Gran Canaria is the ideal place for all cycling enthusiasts throughout the year. Whether training for the professional or the enthusiastic amateur athlete for cycling, the sun-drenched island is ideal.